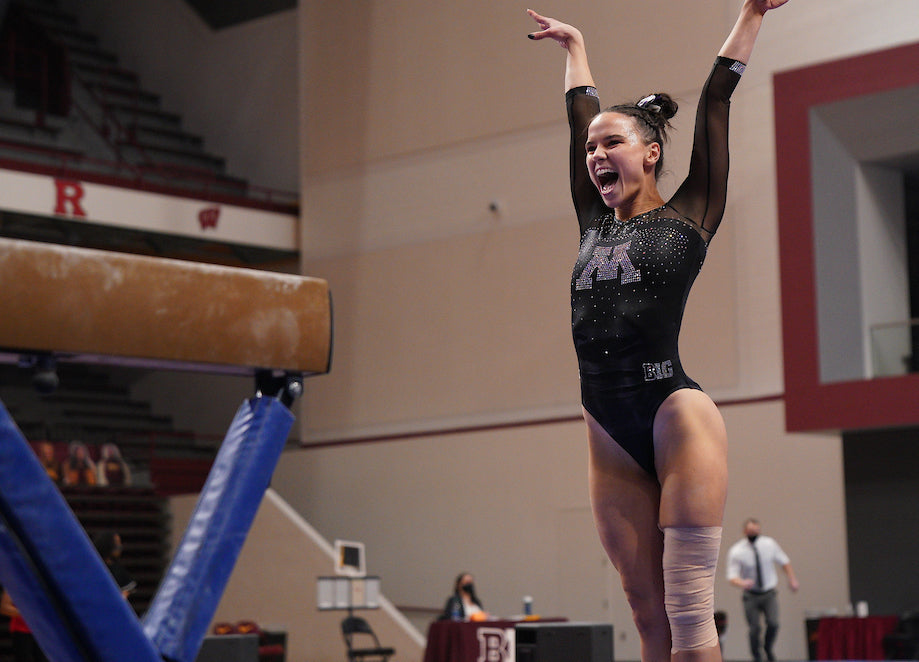 Our Colour's Story
As a Division I gymnast, I used 'nude' or 'skin' or 'flesh' coloured athletic tape in competition for the entirety of my gymnastics career. Towards the end of my career, it dawned on me that this tape was titled 'skin' but only came in one color. Post-athletics I decided to create a brand that not only provided tape that matched my colouring, but for every skin colour.
Hi my name is Mary Korlin-Downs, I am the founder of Our Colour and a 2x All-American gymnast from the University of Minnesota. I want to share how Our Colour came to be.
How It Started
The start of 2020 was the end of my Redshirt senior season. It seemed as 'normal' as a senior season could be. March rolled on through and so did the first hearing of COVID-19 in the US. Within weeks my gymnastics season had come to a screeching halt and lockdown began. Months later, in my own backyard of Minneapolis, Minnesota, George Floyd was murdered; a city of mourning and unrest ensued. My heart ached for the Floyd family, the city of Minneapolis and for the state of our country. I felt the pain that my teammates of color were feeling and wanted nothing more than to take that pain away.
Later in 2020, I decided to return to the University of Minnesota for one last gymnastics season. This one was different. I, along with my team, began to use our platforms as collegiate athletes to speak up for what is right, to have uncomfortable conversations and to educate ourselves. One practice we were discussing the importance of representation. My trainer had vocalized the recent addition of inclusive coloring to Band-Aid's repertoire of products. I asked if the tape we used on the competition floor came in more than one color. The answer. "No."
The Turning Point
Left astonished, I knew something needed to be done. At this point, it was early 2021 and athletes of color still had to settle for less than the bare minimum, tape that matched them. Post-grad, I knew this was a journey someone had to take in order to create more inclusivity in sport. So late 2021, Our Colour came to be. 
Our Colour was created with inclusive skin colours at the forefront of the brand. 'Nude', 'Skin', and 'Flesh' are not one colour fits all. Athletes are so beautifully diverse from one another. The products they use should reflect that.
As a white athlete, I felt seen by the product I used. I felt comfortable to wear those products out on the competition floor and not even think twice. Now, athletes of any colour can feel protected, supported and represented. Embrace your skin, because Your Colour is represented by Our Colour.
Our Mission
Our Colour is an athletic wrap that was created with inclusivity at the forefront of the brand. To protect, support and represent all athletes out on the competition floor, field, mat, and track. Our mission with Our Colour, is for each and every athlete to find their colour, their community and unite one another in sport.
Behind the Name
OUR

A community. Something larger than yourself. Something larger than sport.

Our Colour was designed to bring together a community of athletes that want to be the voice for change.

COLOUR

Your skin. Your pigmentation. Your color.

The 'our' in Colour is purposeful to emphasize the inclusivity of each individual's skin tone. Colour is a collective of skin hue & tones. Colour is your skin, my skin and our neighbor's skin.